OPEN FOR HOLIDAYS – A NEW EDITION OF DISCOUNTS IN CABÁRCENO, CABLE CAR DE FUENTE DE AND CUEVA DEL SOPLAO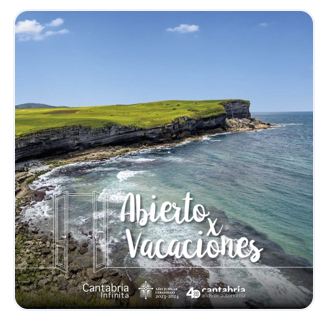 The Ministry of Industry, Tourism, Innovation, Transport and Commerce of the Government of Cantabria launches, for the second consecutive year, the campaign 'Cantabria, Open x Holidays 2022', whose purpose is to support the tourism sector in Cantabria to compensate for the effects of the two harsh years of the pandemic and encourage overnight stays in accommodation in the region and occupation by promoting the seasonality of summer.
With this campaign, hosted customers can benefit from discounts of up to 70% on the purchase of tickets to the three flagship tourist facilities of Cantabrian tourism:
Cabarceno Nature Park,
Cable car of Fuente Dé and
Cave of El Soplao
The campaign will take place from Monday, September 19 to Sunday, November 6, being mandatory to spend the night, in this case, at the Gran Hotel Balneario de Puente Viesgo
The reservation and obtaining of the tickets must be enhanced by each client since it requires filling in a questionnaire with personal data and a registration form.

The discounts, up to 70%, are:
In the Cabárceno Nature Park, the promotion gives access to the entrance to the park and applies only to Adult and Youth rates. The children's rate from 0 to 10 years has free admission. The gondola lift is excluded in the Children's rate, in the section from 4 to 10 years.
In the case of Fuente Dé, the ticket will be for a specific day, at a specific time and exclusively for round-trip fares.
In El Soplao the discount will be applied to 100 daily tickets for the tourist visit, divided into 20 tickets in 5 passes: at 10:00, 11:00, 12:00, 13:00 and 16:00.
From the Puente Viesgo Spa we will provide the client staying at the hotel with the corresponding promotional code that must be entered on the Cantabria Tourism purchase website, in the Cantabria, Open for Holidays section, where you choose the facility, register and redeem the code. It is important to point out that the purchase of tickets for this campaign is carried out exclusively digitally on the official website and they are not admitted for purchase at the box office in person.
More information here in the OPEN X HOLIDAYS section of Turismo de Cantabria
We recommend viewing this video https://youtu.be/cIs4iDjVTu0 where you can see, in detail, the registration and ticket acquisition process.
We are sure that this second edition will be as successful as the previous edition.
Images: Cantabria Tourism official website
#Cantabria,OpenforHolidays #holidayencantabria #cantabriatourismdiscounts #cantabriapromotioncampaign
Inaki Bedia Abio
Commercial Department, Marketing and PR.
Go back